Smith & Hartlett disposal tips – Bombers vs. Power Rd 4 AFL odds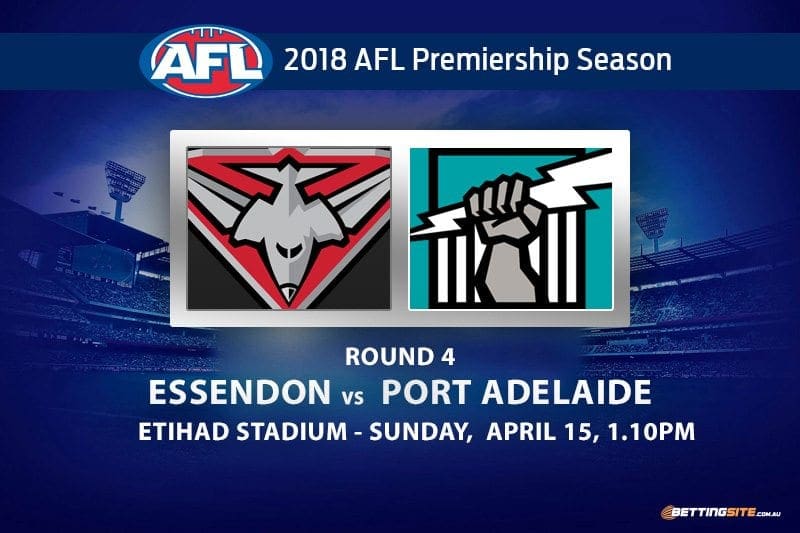 Ladder Position:
Essendon Bombers: 13th
Port Adelaide Power: 1st
2018 Premiership Odds:
Essendon Bombers: $26 @ CrownBet.com.au
Port Adelaide Power: $7 @ CrownBet.com.au
Round 3 result:
Essendon Bombers: Loss to Bulldogs, 104-83
Port Adelaide Power: Win over Brisbane, 97-92
THE solitary undefeated AFL club in 2018, the Port Adelaide Power, will make their way to Etihad Stadium as they go up against the out of form Essendon Bombers.
In their previous meeting, it was the Bombers who tasted victory by a convincing 70 point margin.
Times have changed very quickly as Port Adelaide has recruited well and sits on top of the ladder coming into the match.
Essendon, which lost to the struggling Bulldogs last week, desperately need a win, while the Power will look to solidify its position at the top of the tree.
But both clubs have faced their fair share of off-field controversy during the week.
Tuesday night saw Essendon's Conor McKenna face the tribunal for biting Bulldog Tory Dickson, he now accepts his three week ban for the low act. Port Adelaide also has the media working overtime as young star Sam Powell-Pepper was accused of sexual harassment at a night club during the week. The club has given Sam an internal suspension.
Once the ball bounces, all that matters is four points — and our betting tips. Let's take a look at what's on offer.

Essendon Bombers vs Port Adelaide Power Round 4 – Total Goals tips
Essendon Bombers
12.5 Over/Under – Over @ $1.77 with Sportsbet
Etihad Stadium with the roof closed on a Sunday afternoon — there are no excuses for poor kicking and low scores. Essendon will expect its skills to be more fluid and clean against a strong interstate side this week. In Round three the Bombers kicked 12 goals and 11 behinds in a losing match. They will be capable of kicking 13 this week if they straighten up their set shots.
Port Adelaide Power
13.5 Over/Under – Over @ $1.73 with Sportsbet
Brisbane really gave the Power a huge scare last week, catching them off guard to provide a huge scare, right up until the final seconds of the game. The Power will be switched on this week when they come up against the Bombers, who will not be taken lightly in 2018. They will need to kick a formidable tally, which we expect they will, if they want to win this match.
Essendon Bombers vs Port Adelaide Power Round 4 – To Get 20+ Disposals
Essendon Bombers
Devon Smith @ $1.33 with Sportsbet
Devon has proven to be the best player recruited by the Bombers in the offseason so far. Smith averages 21 touches, but has not played a breakout game for the club yet. We think that this is the game that Devon pulls up his socks and plays to his full potential. With Port missing Sam Powell-Pepper, the Bombers can jump on the opportunity to win the midfield battle, which starts with Devon Smith playing an excellent game.
Port Adelaide Power
Hamish Hartlett @ $1.40 with Sportsbet
Hartlett is another player that averages 21 touches so far in 2018. Last week Hamish tallied 26 against the fired up Brisbane Lions and with his outside run and penetrating kick, he will be the key to breaking open Essendon's backline. The $1.40 odds are good enough to make this bet valuable.
Essendon Bombers vs Port Adelaide Power Round 4 – Margin tips
Either team to win by less than 24.5 points @ $1.83 with Ladbrokes
Close games of football will be hard to find this week, but we think this game will be one of the few matches in round 4 that has a tight margin. Both clubs are strong and will challenge one another to up the intensity. The Bombers will start better, but the Power cannot be counted out as they are the only undefeated team in 2018, which could very well come to an end on Sunday.
Bombers vs. Power Match Predictions
Match Result: Essendon to win @ $2.25 with William Hill
Line Betting: Essendon +7.5 @ $1.90 with William Hill
We foresee an upset in favour of the Bombers. Essendon has the best chance to knock off the top side this week as they are at home. In Round 1 they beat the Crows, who we believe are stronger than Port. We expect the Bombers to win, but not by any more than two goals.